JOHN R JOHNSTON, M.D.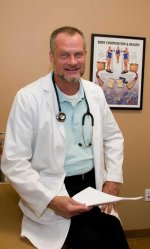 Board certified in family medicine, Dr. Johnston has practiced medicine for over twenty years in the Clear Lake Area. Dr. Johnston practices under the auspices of MDVIP, where he is able to see a smaller number of patients and provide acute care for those who have enrolled. He is a leader in the promotion of bio-identical hormones and integrative medicine in the Houston area.
Read more about Dr. Johnston's journey in his article Extreme Health.